Sprint 4: Refinements, Rebrand & Launch
As the dev team was building up the designs and prototype, feedback was coming in. The offers screens looked great on larger iPhone and Android devices, but the numbers were squeezed on iPhone 4. I created an alternative version.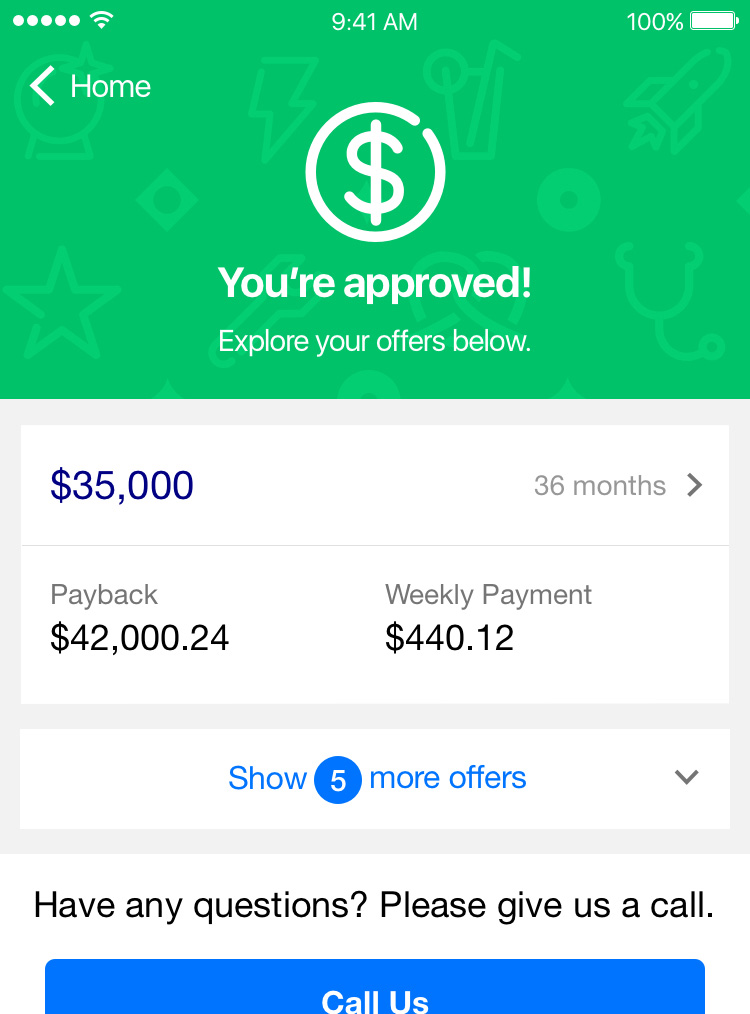 User Testing
After stringing together a clickable prototype on InvisionApp, I generated questions for user testing and worked with the Product Owner and User Researcher to test on UserTesting.com. The questions we were looking to understand:
How do people feel about the "edit info" functionality and each one being on separate screens?
Do users understand they need to "Enter Amount…" under "Estimated Gross Annual Revenue" to continue on the app's business verify screen?
Once on the approval screen, do users know there is more than the single offer?
Does a user know where to tap to review details about each offer?
Does a user understand the information in the "Details about this offer" screen?

What is the Rate?
How often are payments made?
How long is the term?
What will be deposited into their bank account?

Can the user answer questions about comparing the offers, like, which one has the highest pay back amount? or which one has the lowest interest rate?
After six user tests, the results showed that all users thought the renewal process itself was easy to complete (one user had issue with the task wording, but still completed the application itself easily). The majority of users bypassed the other offers pursuing the call to action to click the first shown option.
On the term details page, users with larger phones did not view the loan details box, as it looked like everything was visible. Regarding editing fields, only one user explicitly mentioned them. She mentioned that she did like the way the information was clearly laid out.
The recommended actions were to: show all offers by default and have an indication that there is more content below the break on the "Term Details" page. This was done by removing the sticky "Continue" button forcing the user to scroll down and see the table.
Rebrand
While I was designing this new experience, there was a simultaneous rebrand happening across the company, which is why you may see different logos and colors on some of the mockups.
The product team requested this feature and the app launch at the same time as the new public site and rebrand, so I worked with the developers to supply assets, creating new icons and updating content and elements to be on brand. Dozens of new icons were created for iOS and Android.

Launch
After four sprints, the design was completed and uploaded to Zeplin, where the developers were able to find presentation specs and download SVGs if they needed. You can see the updated app in the iTunes store and on Google Play.
Thanks for reading!